March 11, 2014
The cost of workers' compensation fraud is staggering, according to estimates by state insurance departments.
Premium increases for workers' comp continue to outpace inflation for many industries around the country.
If this poses a large expense to your company, one way to help manage it is by thwarting fraud and educating your management team to the risks that exist. What steps should employers take to reduce this costly type of fraud?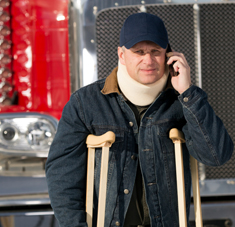 How workers' compensation works
Workers' compensation is a type of insurance that provides wage replacement benefits to employees injured in the course of their employment.
Each state usually manages its own program, and the rights of the employee might differ from state to state. But overall, employees relinquish their right to sue their employers for negligence in exchange for receiving the benefits of the program.
Benefits are usually paid in the form of lost wages, compensation for economic loss, reimbursement of medical expenses and benefits paid to dependents of workers killed on the job.
General damages for pain and suffering and punitive damages for employer negligence are normally not available.
Different types of employee fraud 
Generally, claimant fraud occurs when employees knowingly and intentionally misrepresent a material fact about an injury for the purposes of obtaining workers' compensation benefits to which they are not entitled.
Some general examples of these frauds include:
Misrepresenting the severity of a claimed injury
Filing a claim for an injury that did not occur on the job
Misrepresenting work status while receiving temporary benefits
Ways to prevent it from happening
Your organization may be self-insured for workers' compensation or you may maintain a commercial policy.
One of the first ways to prevent fraud is to screen new applicants by performing workers' compensation background checks and criminal record checks before they are hired. This will aid in identifying a candidate who has a long history of claims, especially ones that have been denied or investigated.
Consider sponsoring safety programs to educate workers on how to remain safe while performing their duties at work, and set up reporting hotlines for them to report any type of suspected abuse.
Educating employees about how workers' compensation works can actually assist in deterring fraud. Employees may believe that it's just the state or the insurance company paying – not their own company. Make sure it's understood that fraud is a crime with real penalties and that employees could be held liable for intentionally misrepresenting injuries.
Once an injury occurs, report it to your agent immediately and send a supervisor to accompany the employee if medical assistance is needed. Gather all facts and document them as soon as possible before the recollections of the event change or erode. Save all surveillance tapes that could be useful for substantiating an incident.
Be alert for questionable injuries, especially after a weekend. Some employees may injure themselves off the job and then report that the injury happened at work.
Steps to take to detect fraud 
The task of detecting workers' compensation fraud can be a joint effort. Some companies outsource it to trained professionals who frequently use surveillance to monitor claimants' activities.
Others take on the task themselves. As an employer, be on the lookout for claims or situations in which:
No one was around to witness the accident or it wasn't caught on tape.
The claimant's story keeps changing as it is retold, or the claimant is having trouble recalling exactly what happened.
The claim wasn't reported in a timely manner or was reported on a Monday morning or after a vacation.
The employee is experiencing financial hardship, is disgruntled in the current job or has a poor attendance record.
The employee is new to the company or is actively involved in athletics.
Employees on leave are never home or are missing medical appointments.
If you suspect an employee's claim may be fraudulent, you should gather the employee's current and prior medical records (after obtaining the necessary releases) and compare them against the accident report. Continue to monitor the employee throughout the treatment.
The claim adjuster should be notified in writing as soon as possible if the claim is considered fraudulent. Insist that your carrier not pay any of the costs and consider pursuing a criminal case against the claimant.
This article was originally posted on March 11, 2014 and the information may no longer be current. For questions, please contact GRF CPAs & Advisors at marketing@grfcpa.com.