May 18, 2015
More attorneys are working remotely than ever before, to the point that some firms no longer have a brick-and-mortar office.
With the increased availability of mobile devices and cloud computing that allows them to work anywhere, anytime, many attorneys are finding they can work more efficiently by telecommuting.
A recent study found that 39 percent of attorneys surveyed said the number of employees at their firms who work remotely had increased in the past year.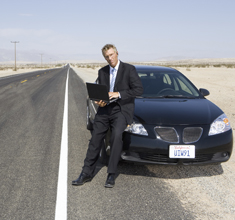 And 16 percent said their firms planned to redesign office space to accommodate the increasingly mobile work force. The study of 175 lawyers from the largest law firms in the United States and Canada was commissioned by Robert Half Legal.
As some firms have gone completely virtual, using their tablets, smartphones, wireless networks and cloud computing to conduct business, increased technology also allows smaller firms to give the appearance of a large-firm presence online, Robert Half's Future Law Office report said.
Smaller firms are also able to expand the reach of their practices outside previous geographic areas through technology. Initial skepticism by many attorneys about using technological advancements in their practices has faded, due in large part to client demand and the need to remain competitive, the research found.
With increased telecommuting come challenges for firms. Those include developing formal telecommuting policies to effectively manage off-site staff, as well as continuing peer collaboration, the report said.
Ensuring the security and confidentiality of information is also a critical concern. As clients demand information around the clock in today's mobile environment, creating secure portals is essential. As more and more attorneys use social networking sites, concerns about privacy and possible disclosure of confidential client information are on the rise, the Future Law Office report said.
With privacy concerns and increasingly complex government compliance and regulatory laws, legal and IT departments are working more closely together.
Asked what issues will have the biggest impact on the practice of law in the next five years, the attorneys said:
Corporate governance/regulatory (31 percent)
Privacy, security (22 percent)
Globalization (15 percent)
Economy (10 percent)
As e-discovery continues to grow, many firms are opting to partner with third-party e-discovery providers that handle document review and project management.
This article was originally posted on May 18, 2015 and the information may no longer be current. For questions, please contact GRF CPAs & Advisors at marketing@grfcpa.com.